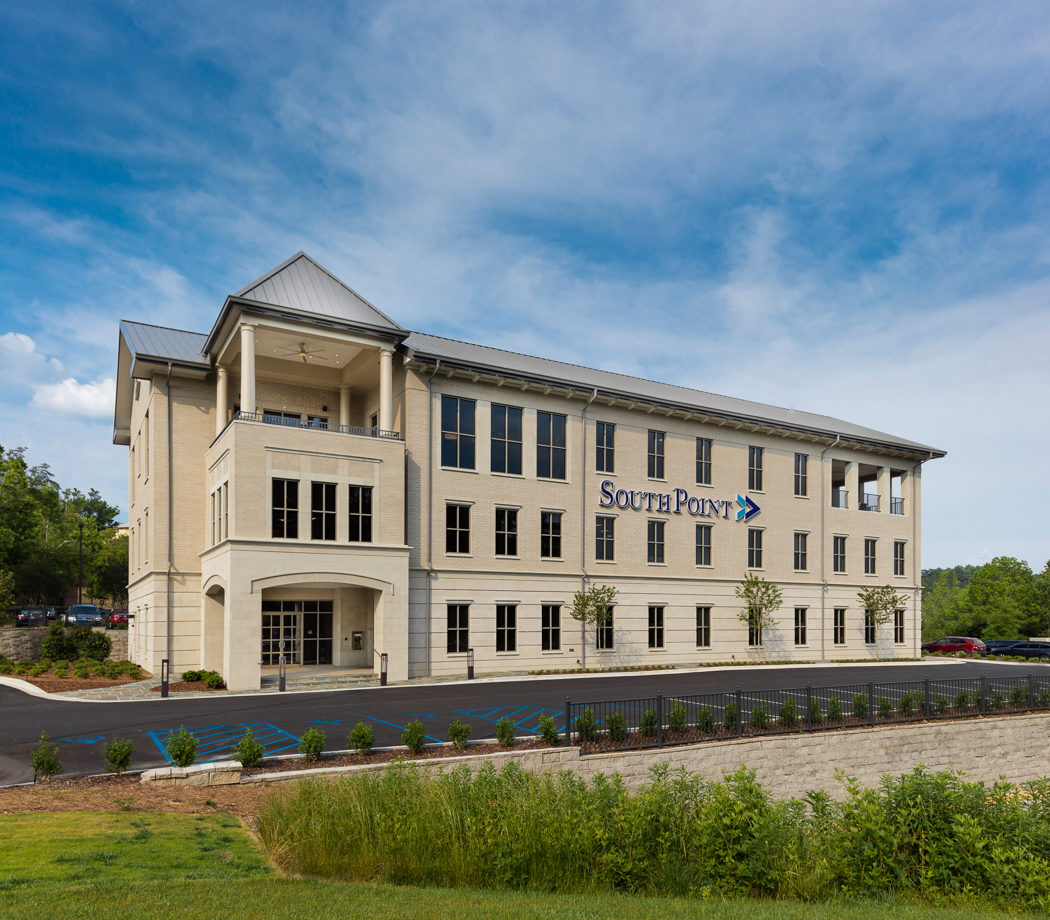 [SouthPoint Bank Corporate Headquarters] Birmingham, alabama
Completion date: 2018 | 27,000sf
The design for Southpoint's new headquarters culminated a multi-year search for a new home for the bank's corporate offices. Located on US Highway 280, one of the most-traveled corridors in the Birmingham region, the building is oriented in a linear footprint to provide maximum visibility. The resulting three story building provides space for all divisions of the Bank, including commercial lending, mortgage lending, retail and bank operations. A branch of the bank is located on the ground floor. Two exterior terraces are accessed from the third floor of the building, providing space for staff to work outside and for the bank to host client events. The exterior materials are primarily brick and cast stone, with light neutral tones to complement the blue colors in Southpoint's brand. The interior design brings a corporate yet comfortable aesthetic that enhances the day-to-day operations of the bank as well as an inviting atmosphere to the clients of the bank.
Interior design provided by Lee Perry.
read more
The facilities for Mountain Brook Community Church were constructed in several phases beginning in the mid-1960's. The church was lacking in a number of components more typical in modern church facilities such as flexibility of spaces and programmed spaces for informal interaction. The construction of new classroom spaces provided the opportunity for both of these. The new facility simplifies the use of the church's campus; children have classroom and activity spaces on the ground floor, and adults have classrooms on the second floor, with ample informal gathering spaces. A new circulation spine connects all major components of the campus with wide, light-filled spaces. Each area in the building can be accessed directly without have to pass through other program spaces. This circulation area also provides main entrances to the facility, and driveways have been reworked to remove accessibility barriers by moving parking closer to the entrances thus increasing safety for pedestrians. The success of the design is grounded in the arrangement of new program spaces that function well while still having interior and exterior spaces for informal gathering. In the new facility, there is now room for members and visitors to talk naturally generating the development of community to develop in ways that it could not in the former cramped passageways and narrow sidewalks.